🔻👇🔻👇🔻👇🔻👇🔻👇🔻👇🔻

🎯 Based on Arduino, ESP32, Micro:bit. Programmable STEM education blocks for kids

📌
Crowbits-Magnetic, programmable, electronic blocks, which empower children of all STEM skill levels to move their STEM education forward today.

The way that they see it, STEM is more important than ever before, and they want children to learn about it and practice it. That way, the next generation can progress more quickly onto the more complex topics.

Unfortunately, STEM education remains out of reach for many families. Without the right tools, children cannot master the topics that are going to mean the most to them. This is what makes their innovation, Crowbits, so useful and so impactful.

Crowbits comes with multiple main controller modules, input modules, and output modules, you can start exploring in which way you like.

Want to play out of the box? Just connected the modules, no coding needed!

Comes with a customized programming software-Letscode, just drag and drop the programming blocks to create games, car as you want.

Since there is no telling how long the schools are going to remain closed and how often they are going to remain stuck at home, but there is no reason to limit kids imaginations. To get started, all you need to do is connect, build then play.

In Crowbits, you will find more than 80 modules, these combine circuit systems with a LEGO-compatible block. Featuring a set of magnetically linked blocks that you can snap and click together– plus a coding element that works via Letscode- a graphical programming software.

There are four functions of Crowbits, each one bearing a different color (blue, green, yellow, and orange). As well, there are three dimensions of Crowbits, each design is kid-friendly.

They have engineered Crowbits so that you can mix and match them with your LEGO blocks, combining them with the classical block toys for an even more thrilling sort of educational fun.

Pick up coding skills as you go! Available in three difficulty levels, Crowbits are the perfect educational tool for all ages. Start with no coding, move on to light coding, and then move on once again to fully coding.

Crowbits supports multiple open-source platforms, including Arduino, Micro:bit, ESP32, and Raspberry Pi to meet everyone's needs.

They have custom-built Letscode on Scratch3.0 as their graphic programming software for Crowbits, kids can program and build interactive projects by dragging and dropping blocks. As coding skills improved, you can also switch to Python, Java for further learning.

Comes with 5 kits, more than 70 PBL lessons to guide kids to start with from a project to teach them how to solve problems and think creatively step by step.

Kids can use Crowbits without worrying about breaking anything. They have used certified ABS material for their blocks – since they know that playtime can get a little rowdy from time to time!

Start your coding journey with Crowbits and Customized software-Letscode. The four-in-one car features ultrasonic, tracking, gesture, and BLE functions.

DIY a fully functioning game console or a phone, or even build a Radar. The only limit is your child's creativity, they can create projects beyond their imaginations as many as they want.

► CROWBITS - Electronic Blocks For Stem Education At Any Level
★ 🎁 Up to 50% OFF
Share
View full details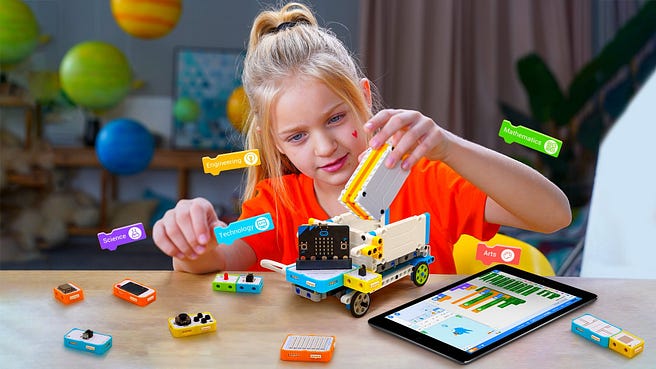 🤔 HAVE YOUR SAY! 🤔
⚠️ [IMPORTANT]: Do you represent this company? Do you disagree with the review?
Sometimes we do make mistakes. Get in touch with us here, or comment down below if we have written something factually incorrect, or you have some input, and we'll rectify it as soon as possible. Also, please provide your personal experiences to help everybody out as well.
– The Team –
🙏 Thanks For Understanding 🙏
⚠️ DISCLAIMER ⚠️
★ The sections below:
INNOVATIVE PRODUCTS, ONLINE INNOVATIONS and FREE CODES.
>> Click here <<
★ The section below:
FREE SHIPPING.
>> Click here <<
★ For copyright matters, please contact us.
🙏 Thank you for the support! 🙏
🍕 🥰 🍺
Now you've had the rundown
It's time to Sit Back
Relax & Enjoy with Ciaomarkets!
✨ Don't forget to SHARE this page with your friends ✨